Honolulu scuba diving courses, PADI certification, Open water scuba diving lesson in Hawaii.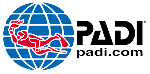 All of our PADI scuba diving certification courses are taught in Honolulu, Hawaii by PADI (Professional Association of Diving Instructors) certified instructors, who strictly adhere to the safety and quality standards. Our scuba diving classes are small in size to insure your success and learning retention. In addition, the DAN student membership program, Divers Alert Network insurance protection is included for all our entry level scuba diving courses.

The PADI open water diver certification course integrates with other PADI scuba diving courses to help meet changing consumer needs. The philosophy is to give you maximum flexibility in accommodating time demands and varying learning styles.
Scuba dive today is a principal that addresses the biggest perceptual obstacle to becoming a diver, it takes a lot of time before you even get to scuba dive.
Our philosophy is to begin the student learning by diving in confined water and then into the open water as early as possible. This not only accomplishes a marketing objective, but assists course educational goals by bolstering student interest and confidence.
Scuba diving classes - Scuba diving lessons - Scuba diving instruction - Scuba diving training
PADI open water diver certification, Honolulu scuba diving lessons, scuba diving classes in Hawaii