Hawaii PADI certification classroom, PADI Open water course

808-224-7857
Honolulu, Hawaii

Classroom Portion of the PADI Open Water Course with RainbowScuba Honolulu, Hawaii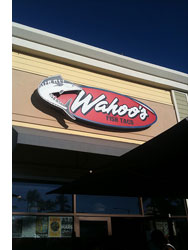 Welcome to our Scuba diving lesson debriefing facility that we utilize after a great day of Hawaii scuba diving. Wahoo's fish taco, located directly across the street from Kewalo Basin Harbor. It's a great spot to relax, answering questions concerning the days scuba diving lesson and to fill out the PADI dive log books.
Knowledge Reviews, Quizzes & Final Test
We will also once again go over the Knowledge reviews and quizzes in the PADI open water manuel ensuring your comprehension of the material. Then the big test, 50 easy questions that we have just previously reviewed.
Hawaii PADI certification classroom, PADI Open water course