Hawaii Scuba Diving Instruction, Learn Scuba diving in Hawaii

808-224-7857
Honolulu, Hawaii

PADI scuba diving instruction in Honolulu, Hawaii 96815 USA
Consider Hawaii scuba diving classes in Honolulu for PADI diving certificates. Basic, fun and safe, scuba dive Honolulu with professional PADI scuba training courses.
Honolulu diving instruction is tentatively scheduled for PADI certification on your Hawaii scuba diving vacation.
PADI Scuba Diving Instruction for Exciting Hawaii Scuba Diving Adventures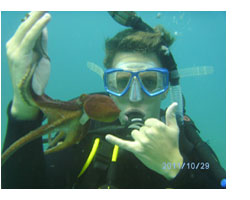 Gain knowledge of scuba diving in Hawaii, PADI certification programs & Honolulu diving instructional courses on Oahu. It's never to late to educate yourself and take a Hawaii scuba diving course. We provide you with first time diving training and advanced diving courses in Oahu.
View our Honolulu scuba diving imagery and see for yourself, or maybe check our Hawaii scuba diving reviews.
Hawaii Scuba Diving Instruction For ages 10 and Over in Honolulu, Hawaii