Rainbow Scuba's Hawaii Scuba Diving Training Honolulu, Hawaii 96815 USA

808-224-7857
Honolulu, Hawaii

Hawaii scuba diving instruction & Dive Training in Honolulu, Hawaii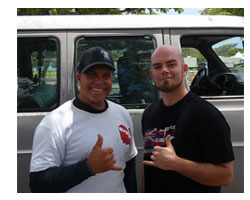 Take diving training in Honolulu pertaining to PADI diving certificates. Rather simple, exciting and free from danger, scuba dive Hawaii with exceptional PADI scuba lessons. Honolulu diving lessons are tentatively slated for PADI certification on your Oahu diving vacation trips. Gain knowledge of scuba diving in Hawaii, PADI accreditation training & Honolulu diving training courses on Oahu. It's rarely to late to learn how to be a Honolulu scuba diver. We offer very first time diving tutorials & advanced diving courses in Oahu. Consider our Hawaii scuba diving tours and discover for yourself or simply check our Hawaii scuba diving ratings.
Learn How to Scuba dive in the warm Hawaii ocean waters with PADI scuba Training
The PADI advanced open water scuba diving lesson stands out as the logical development of knowledge almost every scuba diver, provided you'll have first taken the PADI open water course. With either a two or three day class available throughout Honolulu, you are going to nevertheless develop into an advanced scuba hobbyist. In the end, the information development obtained in this Hawaii diving lessons is tremendously elevated throughout the general open water diver instruction.
The PADI open water complete training program is a entry level PADI certification for scuba diving in Honolulu. The Hawaii scuba diving training courses are centrally located conveniently in Honolulu near the Waikiki beach resorts. New scuba diving individuals who are only 10 years old can are involved in this Honolulu diving course. Your pleasure and quality of the Hawaii diving instructional classes for PADI certification in Honolulu is our greatest characteristic at Rainbow Scuba Hawaii.