Hawaii scuba diving vacation packages with Rainbow Scuba Hawaii
808-224-7857
Honolulu, Hawaii
Learn scuba diving on your Hawaii vacation with Rainbow scuba of Honolulu, Hawaii.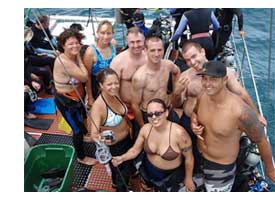 The best Hawaii scuba diving vacation packages are available while diving in Honolulu with Rainbow Scuba Hawaii. On several of our diving charters in Hawaii we encounter Hawaiian sharks, huge rays, exotic octopus and playful dolphins.
We also offer a variety of Hawaii scuba diving sites with submerged shipwrecks, crashed airplane wrecks and lush coral reefs teeming with marine life.
We dive only the best Hawaii scuba sites to ensure you enjoy your Hawaiian vacation.
Hawaii Vacation for Scuba Diving Tours & Hawaii Ocean Activities
Enjoy scuba diving in Hawaii on your vacation with Rainbow Scuba Hawaii!
Multi Day discounts on our Hawaii scuba diving vacation packages as well as discounts on our PADI certification scuba diving classes in Honolulu. We want to ensure your enjoyment while on your Hawaii scuba diving vacation destination with our Hawaii scuba diving school here in honolulu, Hawaii.