PADI Hawaii scuba lessons Honolulu, Hawaii
808-224-7857
Honolulu, Hawaii
Hawaii PADI certification course requirements, Honolulu scuba diving lessons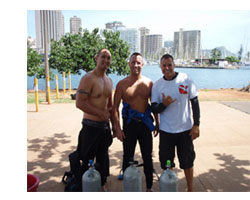 Count on your personal scuba diving lesson in Hawaii to become part scuba diving instruction as well as part Hawaiian underwater adventure. You will be mastering a whole new Ocean activity which will permit you to investigate a hidden underwater world which is unfamiliar to most people.
After you learn the Hawaii scuba lessons, you are able to present your personal certification card with delight. This is actually the official PADI accreditation proving that you're a qualified recreational scuba diver. Actually your personal training is not going to stop there, practical experience is definitely the ultimate instructor. You in turn become a significantly better scuba diver each and every time you decide to go scuba diving in Hawaii.
Learn to Dive, take Scuba lessons in Honolulu, Hawaii
Acquiring scuba diving lessons in Hawaii is definitely the initial step. All of our Hawaiian scuba diving lessons will provide you with an abundance of opportunities to seek advice as well as practicing numerous techniques underwater. Our students study at their particular pace, the objective is designed for you to ultimately develop into a capable scuba diver. You will experience classroom studies, pool/confined skills together with open water practical experience.
When you obtain your PADI certification card you are competent to be able to dive in open water. In the event that Hawaii scuba diving results in being your obsession, contemplate additional scuba diving lessons. You really should become certified as a PADI advanced scuba diver, rescue diver, or perhaps a divemaster.