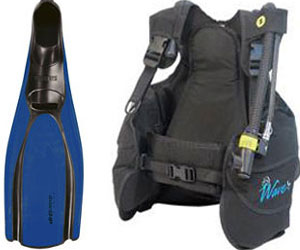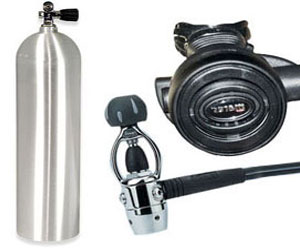 Rainbow Scuba is proud to use quality Hawaii scuba diving equipment from Mares & Aqua lung. Our rental dive gear in Honolulu is inspected daily before and after our customers use to ensure safe operational usage of our Hawaii scuba diving equipment. We replace and or rebuild our scuba dive gear every year to ensure its reliability.
Luxfer 80 CF Aluminum Tanks, Mares Avanti Fins, Aqua Lung Wave BCDs, Mares Ranger 2 Regulators
The Luxfer Aluminum Tanks we use hold 80CF, have K-valves with the standard yoke outlet and weight about 45lbs when full.
The Mares Avanti Fins design is inspired by marine mammals (Whale Tale Power). Channel Thrust technology maximizes the channeling of water and moves a much greater amount of water compared to other fins of the same size. The result is greater thrusting power with the same amount of effort. The closed foot pocket in soft, thermoplastic rubber, offers the greatest possible performance and comfort, making boots unnecessary. The result, superior comfort and performance while using this Hawaii scuba diving equipment.
The Aqua lung Wave BCD is a great entry level BCD and is also used in many diver gear rental programs around the world. Seven sizes that are color coded for identification, this BCD fit's the smallest young scuba diver all the way to the adult male. The heavy-duty construction will give years of dependable scuba diving rental service. Large non-corrosive plastic D-Rings on the torso adjustment straps and two stainless steel D-Rings for attachment of accessories, two large Velcro pockets for your backup light, slate, gloves or goodies.
The Mares Ranger 2 Regulator has a simple non-balanced piston first stage design that is great for the entry level scuba diver or to be used in scuba diving rental gear programs. The exclusive MARES DFC system featured minimizes the intermediate pressure drop which occurs in all regulators during the inhalation phase. This pressure drop is greater when higher airflow is demanded of the regulator. The DFC system substantially reduces breathing effort and inhalation resistance, especially during deep dives and under high air flow conditions.