Private Dive Boat Hawaii Scuba
808-224-7857
Honolulu, Hawaii
Private Honolulu Scuba Diving Charters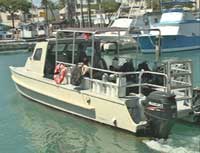 The Scuba Cat catamaran is available for private Oahu boat charters. It is a great lifetime experience on a day out in the Hawaiian waters. The scuba cat catamaran departs twice or occasionally three times daily from the Kewalo basin harbor.
Located just 5 minutes west of the Waikiki beach hotels. If your interested in a private Oahu boat charter the scuba cat catamaran in Honolulu, Hawaii can meet your needs.
Scuba Cat Catamaran Dive Boat
Original built in Kauai by Ocean Engineering. Craftsman known for designing vessels built to handle the sometimes turbulent Hawaiian waters.
Catamaran, fiberglass custom-built:

LOA: 30 feet long

Beam: 11 feet wide

Draft: 24 inches

Initial Coast Guard certification 12 Passenger

We limit to 6 scuba divers

2013 Twin Suzuki 150 HP outboards

Air Tanks/Holders: 30 total

On-board Audio Amp system

Input: Headphone Jack (3.5mm)

Ipad Display

Sonar Phone fish/Depth finder

GoPro app sync compatible

Safety Equipment

VHF/FM Transmitter

Cellular transmission

E.P.I.R.B. Satellite

Coast Guard approved Life Jackets

100' float line with safety float

First Aid Kit

CPR and First Aid certified staff

Divers Alert Network Oxygen Kit

Igloo Ice Chest