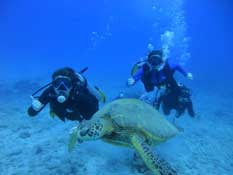 Oahu Hawaii has several great reefs for scuba diving. With a variety of marine life the reefs of Hawaii are great for scuba diving enthusiasts.
From reefs with Hawaiian green sea turtle cleaning stations to whit tip reef shark filled dive sites Hawaii offers an abundance of marine life.
Experience the best Hawaiian reefs and dive sites with Rainbow Scuba Hawaii. Wether first time scuba diving or an advanced scuba dive interests you, We dive only the best reefs in Hawaii!
Reefs and marine life of Hawaii
The island of Oahu provides us with great reef diving encountering Hawaiian green sea turtles and white tip reef sharks.
This site provides you with easy navigation and the opportunity to see the elusive dragon eel. There is an abundance of aquatic life to observe and photograph. Maximum depth is 60 feet.
This is a horseshoe-shaped reef with a resident white-tip reef shark. You can expect to see eels, puffer fish, butterfly fish and green sea turtles. Maximum depth is 30 feet.
Turtle Reef
This reef is teeming with green sea turtles, cleaner wrasse and eels. These lava fingers extend to and from the shore. It is easy to navigate and fun to conduct photography or just enjoy the friendly aquatic life. Maximum depth is 35 feet.
Fantasy Reef
This reef system offers ample opportunity to photograph the green sea turtles and the many octopus that inhabit the reef. There are several swim through on this site and it is an excellent area to find 'sea biscuits' which are the tests of urchins. Maximum depth is 50 feet.
Portlock Wall
The wall provides the setting for some of the most exciting drift diving on the island of Oahu. There are caverns to explore and small caves to visit. The maximum depth is 90 feet, but most dives are done between 40 and 60 feet.
Sea Cave
The Sea Cave is an exciting cave dive located between Portlock Wall and Paliea Point. The mouth of the cave is located in 55 feet of water and the cave extends inward approximately 150 feet. You can expect to see white-tip reef sharks and sea turtles as well as many different types of shells and reef fish.
Paliea Point
This site is not always available due to the water conditions. When it is conducive to safe diving it is one of the most beautiful dive sites in the world. Maximum depth is 90 feet.
Makaha Caverns
Makaha Caverns is a beautiful reef system that will always surprise you. You just never know what you are going to see. The reef is teeming with octopus, eels, turtles, eagle rays, white-tip reef sharks and a number of tropical fish.
Electric Beach
The actual name of this site is Kahe Point, but is commonly called Electric Beach due to the electricity-generating plant located directly across the highway from the entry site. The plant uses seawater to cool its turbines and then returns this warmed water to the ocean via underground pipes. The warmed water stirs up the bottom as it flows up and out attracting a great number of feeding fish. It is a great site to conduct photography and fish identification. The maximum depth is 29 feet.
Sharks Cove
Sharks Cove was named many years ago because of a meat processing plant that was located just across the road from the site. At the end of the day, the plant personnel would take the scraps from the day's processing and throw them into the sea within the cove. It did not take long for the sharks to figure out that there was a free dinner at the end of the day. It was a daily event for the local population to come out and watch the sharks eat inside the cove. The meat plant has been gone for many years and the sharks no longer frequent the cove but the name stayed. It is an awesome diving and snorkeling site. Maximum depth is 35 feet.
Fire House
This site provides swim through and canyons to explore. You can expect to see white-tip reef sharks and frog fish as well as all of the other tropical fish in Hawaii. Maximum depth is 50 feet.
Three Tables
Three Tables is a diversified site that provides swim through, canyons and flat reef plateaus. All types of training can be conducted here because of the attainable depths on the outer reef. Three Tables is also a great snorkeling site for the entire family. Maximum depth is 60 feet.
***North Shore dive sites are generally only available during the summer due to the frequent large winter swells