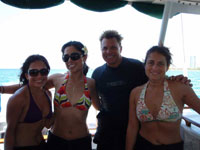 All ways wanted to try scuba diving lessons in Hawaii? Scuba diving is an easy and fun Hawaii Ocean Activity as long as you're comfortable in the water. Like swimming, basically 80% of scuba diving is mental, if you're relaxed in the Hawaiian ocean it's easy, fun and safe! If you have a strong will and a desire to Scuba dive in Hawaii, we will teach you!
What should you bring with? Swim wear, a towel, sun screen protection and sunglasses. A camera is recommended but we do have digital underwater camera rentals available.
First Time Scuba Diving in Hawaii Requirements
Participants of first time scuba diving must be 12 years or older, and medically fit to scuba dive (* see Below). For safety reasons all of our scuba diving tours in Hawaii are from a boat, the Stugots Dive boat. If you are prone to sea sickness please take precaution and utilize some type of medication, we recommend Bonine.
* Medically fit to scuba dive may be defined in part as having none of the following:
ear infections, ear disease, any history of ear or sinus surgery, suffering from a cold, allergies, bronchitis, have active asthma, collapsed lung, emphysema, pregnant, history of heart disease or previous heart attack, high blood pressure, angina, or taking medicine to control blood pressure, or diabetes.
Please check this medical release form for complete requirements as it must be completed prior to scuba diving in Hawaii. All questions are "YES" or "NO". If you answer "YES" to any question or are unsure about your answer, you must obtain a release from your physician prior to diving.