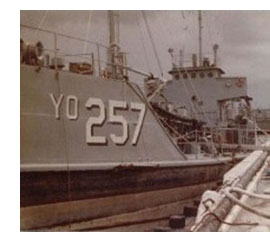 USS YO-257 Shipwreck:
Arguably the most exciting Hawaii shipwreck dive site on the island of Oahu for recreational scuba diving.
The YO-257 was a Navy yard oilier built in the 1940's.
Vessel Specifics: Type: Oil barge, Length: 174 ft., Beam: 33 ft., Draft: 13 ft.
It was purchased by Atlantis Submarine in Hawaii and sunk as an artificial reef two miles off the Waikiki beach in 1989.
The ship rests upright in 100 feet of water with the main deck about 85 feet.
Honolulu dive shop exploring YO-257 Shipwreck
It has been prepared for scuba diving in Hawaii with many large access holes cut through the shipwrecks structure. Visibility is normally 100+ feet. There is sometimes a strong current at the surface, but a decent line is always rigged to mooring buoys on the shipwreck. You can expect to see lots of Hawaii scuba diving Marine life such as Hawaiian green sea turtles, white tip reef sharks, eagle rays, and even get your picture taken by the occupants of the Atlantis Submarine. That's right, the Honolulu tourists will be inside the submarine looking out at you.